Q&A

on the Hundred Project and Publication
The following excerpt is from an interview on my new self-published book, originally conducted with writer Suan Chang for The Heritage Keepers feature published in The Business Times on 5th July 2019.

What's your reason for starting 100 recipes?
My father passed away late last year. It was a painful experience. We all weren't ready to say goodbye, including him. He was a successful restauranteur in Fiji before he retired and came to live with me in Singapore. I am indebted to him so I decided to cook a hundred meals and recipes as a project in memory of my father, to celebrate his life.

My grandparents gave my father the name Pak Nui 百女 (hundred daughters) to fool demons a soothsayer told them were out to get their only son. He later changed it to Pak Noi 百耐 (hundred patience). Hence, the hundred recipes and the project title 百女百耐百膳 ~ Hundred Daughters Hundred Patience Hundred Meals.
I hope that his name and legacy lives on, from our kitchen and dining table to that of other families.
When did you start work on it?

I was kind of thrown into the kitchen when he passed last September. He had cooked for the family. And I suddenly found myself with new responsibilities having to cook and care for my mother and household. But it was only in January this year that I decided to pursue the 100 recipes rigorously as a project, as a pilgrimage and performance if I may use those terms.
How did you choose the 100 recipes? I think you mentioned that some are from your father's restaurant - so are the recipes the exact same ones, or a modified version of them? And the rest are what the family usually cooks?

The best way to describe it is that I'm using food as a device to tell our family's story. The dishes and recipes are inspired by our history and reflect our diaspora, from the rice farms of Kaiping in South China, to the sugar cane fields of Fiji in the South Pacific, to the HDBs of Singapore in Southeast Asia. It's a rojak collection. Some are Cantonese soups and dishes my father and mother had cooked at home, some are menu items from my father's restaurant, some are childhood dishes from Fiji and some are picked up when we moved to Singapore. I am not formally trained as a chef and never really learnt recipes properly from my father and mother, but I'm quite observant. My mother has alzheimer's now so can't remember much. I attempted to recreate recipes from memory, cross-referencing to how others might be cooking similar dishes and then modifying them a little.
How did you compile and shoot the dishes? Would you cook a dish every day, or several dishes for a day and then shoot them?

At first, I was just focused on cooking, getting the taste right and logging the recipes. I didn't pay much attention to plating and how it looked. The pictures were merely documentation. When the thought of publishing a book came, I put more thought into plating and presentation. All the meals are cooked in my modest home kitchen and photographed before we ate. On average, I attempted one meal a day, sometimes two. I cooked about 150 dishes in total. Some failed miserably, some I attempted a few times, some I edited out for the final hundred. My mother, wife, sister and helper were my food critics. On a few occasions, I invited my in-laws and some friends over to try my cooking.
Where were they shot?
Everything was cooked and photographed in my little HDB. I bought various cloths to use as backdrops and a little LED light and set aside a small table. I photographed them all flatlay on round plates. They make an interesting tapestry when viewed all together.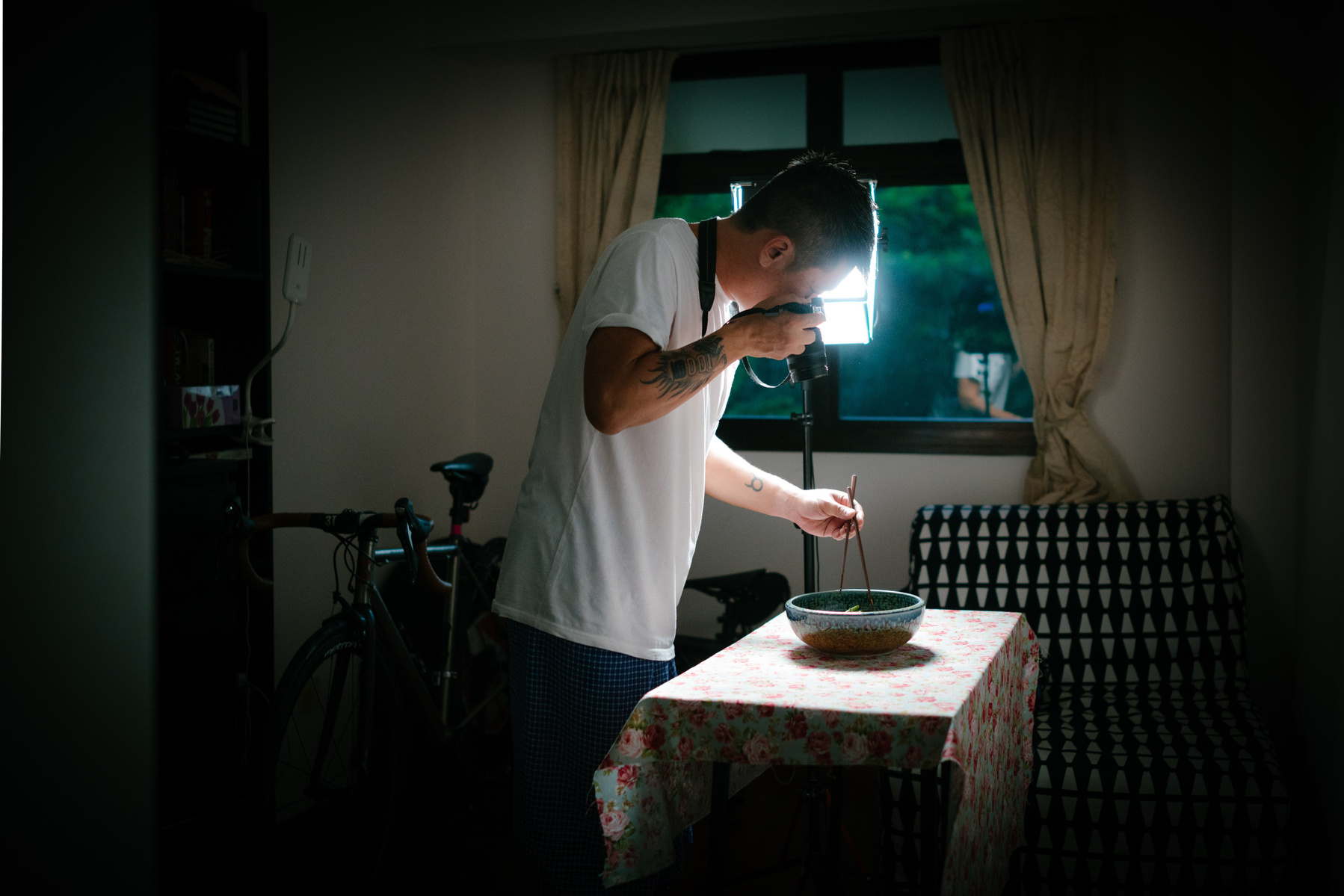 Did you cook every dish yourself?
Yes, I did. My domestic helper assisted with some prep like cutting vegetables etc. When I made some dumplings, everyone chipped in with the wrapping so the final plate had dumplings of various shapes and sizes. Some were ugly and some were beautiful, but I find that very endearing, and what home cooking should be.
Out of the 100 recipes, which is your favourite and why?
There's quite a few that are precious and have a lot of sentimental value. There are also some that are very much my favourites in terms of taste. But if I were to give you a sense of the recipes, I'd pick 3: 1) Kokoda, a tangy chilli Fijian fish ceviche; 2) Scrap Pot Curry, a spicy curry made from chicken bones, prawn heads and other discarded, odd parts that my father's restaurant chef made for staff lunches; and 3) Pear and Bone Soup. Soups are the heart of all Cantonese meals. At his final hour at home before he passed, my father was sitting on his wheelchair in the kitchen, teaching our domestic helper how to make Pear and Bone Soup for the family.
The plan is to put them all in a cookbook, 100 pages dedicated to the recipes, and another 100 pages dedicated to family photos and stories of the family?
I documented my father's return to his ancestral home and village in Kaiping, China in 2012. The whole family joined him on a road trip. I made a little book dummy of the photos but never published it. So the plan now is to publish two books in one – the photobook and the cookbook, the roads and the kitchen, as metaphors for my father's life and our family's story of migration and diaspora.
When will it be ready and how many copies will be printed?
I engaged a designer to work on the publication. It is still early stages but I hope it can be realised at the end of this year, a little after the first anniversary of my father's passing. At this point, it will be self-published so the print run will be limited to 500.
[The book is now available for PRE-ORDER at an early bird offer price and expected to be delivered in October/November 2019]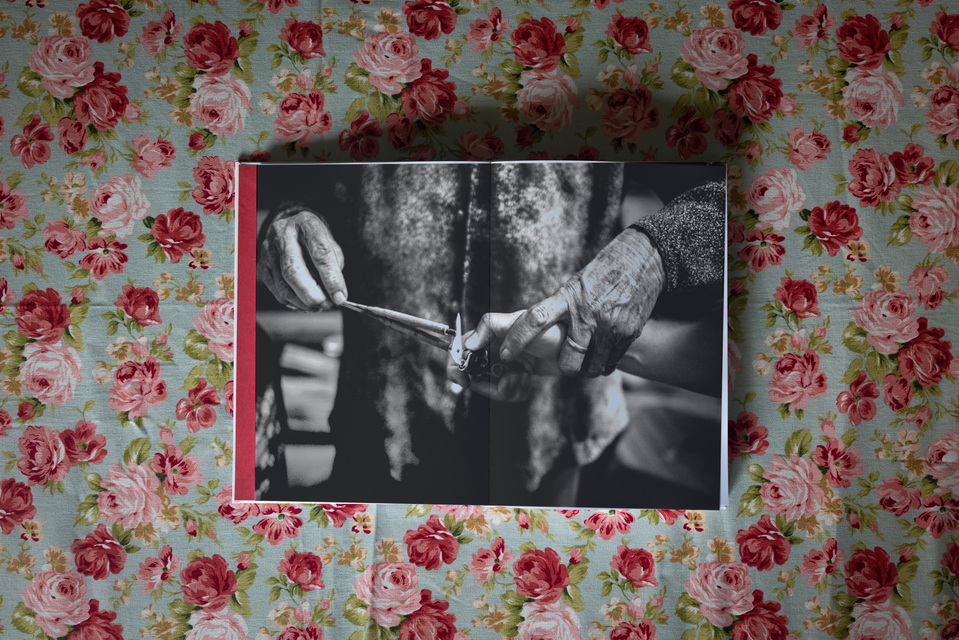 What does your mum think of this project? What does your family think of it? How many kids have you got, and what does your wife do?
My mum suffers from Alzheimer's so she isn't all that aware. She finds it amusing in her few moments of clarity. Rest of the family are very supportive, no least because they get fed when I cook. Haha. I don't have any kids at the moment. My wife is the regional marketing lead for a footwear brand.
When did your father pass away and how did he die?
He passed away in September 2018 from congestive heart failure.
How close are you to your dad? What are your fondest memories of him?
We were close, but not affectionate. He was an old-school father. I remember him going to the markets every morning in Fiji to buy fresh produce for the restaurant. And also waiting with him late into the night for the last customer to leave before closing shop and driving home. More recently, I remember fondly him seeing snow fall for the first time when I took him and my mother to Shanghai a few years ago, when they were both in better shape.
To crowdfund the project, you started selling chilli sauce to fund the project. How many bottles have you sold? And where did the recipe come from? And you make them at home - which area do you live in?
Surprisingly, my chilli sauce is doing quite well. I've sold about 200 bottles since I started 2 weeks ago. The recipe is an original one that I concocted after many blends and refinements whilst I was cooking the hundred recipes. Subconsciously, I imagined my father telling me – a bit more of that, a bit less of that. I love chilli so it was high on my list to make my own. I live just outside of the "hip zone" in Tiong Bahru.
Who has bought the chilli? Have you had strangers buy them, how did they hear of it?

It has been mostly friends and friends of friends. And a few who follow my photography and work on social media. Good to have very supportive friends who are also foodies and pedas lovers. Some have shared reviews and posted pics of what they're eating the chilli with in Singapore, India and Philippines. Quite a few have come back and bought more because they loved the chilli.
Before I sold the chilli, there were people that were already following my attempts at the hundred recipes as I was sharing that on social media. So that helped.

What do people think about your project?

The response has been wonderful. A lot of people tell me they resonated with what I was doing. It helps also that the themes of food and family are universal.
Apart from this being a personal project, what do you hope that the larger audience get from this - eg the ones that do buy the cookbook?
I hope that those who eventually buy the book will attempt to cook the recipes for their families and friends. And that they taste the food. And through this, they learn a little about, not only my father's and my family's history, but a universal and nuanced story of migration. The topics of migration and identity are very current and relevant.
It would be wonderful too, if they took the recipes and then adapted it further to reflect their own taste and history.
What has been the biggest challenge in doing this project?
Self-doubt is an inevitable challenge everyone needs to overcome in the creative and creation process – will people like my cooking, my palette, my chilli, my book?? The other challenge will be funds to self-publish a good quality publication.
What is or would be the most satisfying moment?
The most satisfying moment is when people who bought and tasted my chilli tell me they really love it. I hope this happens later with the recipes too. The other satisfying thing is my father's name and legacy now lives on. I named the chilli after my father and his restaurant. #PoonsChilliSauce is now a real hashtag! My father would be very amused if he were alive. In his first years in Singapore after his retirement, he had wanted to open a hawker stall. We dissuaded the old man against it.
Since you were born in Fiji, what made you come to Singapore, and how long have you been here?
I was in Sydney Australia for a few years before coming to Singapore. My sister came to Singapore first. She married a Malaysian and they both settled here. I came to Singapore 20 years ago on her suggestion.
Is it right to say both you and your dad became Singaporeans?
Yes, my father and mother became citizens in 2008. On the night my father passed, I had to take his pink IC to the police station to have a hole punched into it, to confirm his demise. I still have it in my wallet from that night.
~~~~~~~~~~~~
Hundred Daughters Hundred Patience Hundred Meals is now available for PRE-ORDER at an early bird offer price and expected to be delivered in October/November 2019.