Curation: Hong Kong & Taiwan Showcase | Angkor Photo Festival 2015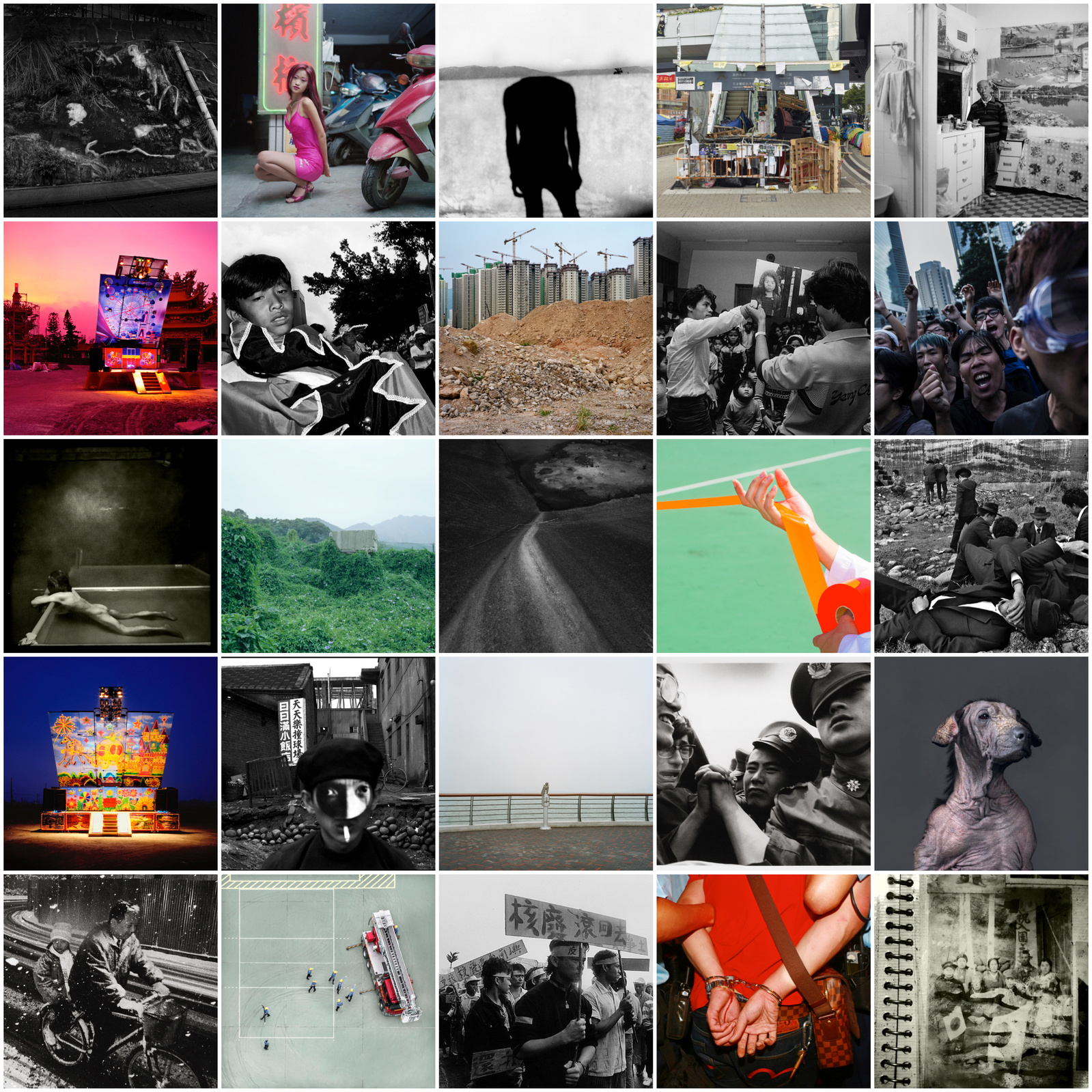 When we talk about photography from East Asia, China and Japan usually dominates conversations and we are exposed to much from these two territories. The invitation by Angkor Photo Festival to curate an evening of slideshows is an opportunity I hope to take to introduce great photography and photographers from Taiwan and Hong Kong to the young Southeast Asian audience at the festival.
This showcase, featuring 18 photographers of varying experience, age and motivations, is an introductory overview than a comprehensive survey. Logos and symbols from each photographer's time and place (and proximity to China in every sense of the word) are visible and manifest themselves in various discourses on identity and existentialism.
Showcase Photographers:
1) ALFRED KO CHI-KEUNG, HONG KONG
Alfred Ko Chi-Keung, born in Hong Kong, studied photography in the Banff School of Fine Arts in Canada. He returned to Hong Kong in 1977 and has worked as a freelance photographer ever since. In the 1980s, Ko founded the FOTOCINE School of Photography (影藝攝影學校) and the Photo Centre (攝影中心) in Hong Kong. He is also a founding member of the Hong Kong Institute of Professional Photographers. Ko was awarded "Photographer of the Year" by Hong Kong Artists' Guild in 1992. His works are collected by the Hong Kong Heritage Museum and private collectors.
2) CHAN DICK, HONG KONG
Chan Dick is a photographer in Hong Kong specializing in still life, interior and architectural photography. His work over the years has garnered him awards in Hong Kong and Internationally. In 2015, his photographs of the Chai Wan Fire Station won the Hong Kong Photo Book Awards.
3) CHANG CHAO-TANG, TAIWAN
Chang Chao-Tang, born in 1943 in Panchiao City, Taipei County, is one of Taiwan's most important photographers. Chang began taking pictures as a teenager in high school at the start of the White Terror period, which referred to 38 years of martial law in Taiwan imposed by the Chinese Kuomintang. Chang's imagery is influenced by the social realist works in literature and surrealist painting. In 2013, he had his first major retrospective exhibition at the Taipei Fine Art Museum.
4) CHEN CHIN-PAO, TAIWAN
Chen Chin-Pao went to the Department of Photography of School of Visual Arts in New York in 1996, and earned his degree of BFA with an award for outstanding Achievement three years later. Chen got MFA degree from School of Fine Arts, Taipei National University of the Arts in 2013. His latest ongoing project, "Ordinary Household", is dedicated to depict contemporary Taiwanese domestic life. Chen was awarded The Overseas Photographer Award of The 26th Higashikawa award at 2008. He lives and works in New Taipei City, Taiwan.
5) DUCKY TSE, HONG KONG
Ducky Tse is a prominent documentary photographer in Hong Kong, and a highly productive one at that. He has published a substantial number of publications since the mid-90s including "Close-Up Hong Kong", one of his several collaborations with Programme for Hong Kong Cultural Studies in Chinese University of Hong Kong. His in-your-face styled street photography, which are clearly influenced by photographers like Gary Winogrand and Bruce Gilden, express well the intangible mental state of the people in the era.
6) DUSTIN SHUM, HONG KONG
Dustin Shum was born and currently lives in Hong Kong. He graduated from the Hong Kong Polytechnic University in 1994 with a Bachelor of Arts (Honours) Degree in Photographic Design. A photojournalist for more than ten years, he now works as a freelance photographer. Shum has received many awards for outstanding documentary photography over the years, including those by the Newspaper Society of Hong Kong, the Hong Kong Press Photographers Association, World Association of Newspapers and Publishers, and Amnesty International.
7) GUAN XIAO-RONG, TAIWAN
Guan Xiao-Rong was born in 1949 in China's Hainan Island. In 1972, Guan graduated from the Taiwan Junior College of Art. His work of Lanyu and the plight of the Yami people has been published in three volumes containing nine photographic essays and eleven reports. As a practitioner, Guan constantly shifts roles between a documentary photographer and an anti–nuclear waste activist. Guan is currently working to complete his new documentary project titled "Ice and blood."
8) JOHNNY GIN, HONG KONG
Johnny Gin is a copywriter and photographer living and working in Hong Kong. His life-long academic background is eclectic: an undergraduate education in English Literature, followed by graduate degrees in Communications and Library Science. He is now enrolled in an MFA Photography program at SCAD HK. His photographic interest lies in the examination of urban spaces and vernacular environments and the ways in which these spaces inform us about the culture and identity of a city. His personal and student work have been exhibited in Hong Kong and in Savannah, Georgia.
9) LAM CHUN TUNG, HONG KONG
Lam Chun Tung was born in Hong Kong and started his career as a photojournalist in 2000. He worked in The Sun, Ming Pao, AM730 and currently works for a newly established media based in Hong Kong. He has won 23 awards of photojournalism including the Best Photograph Award of the Newspaper Society of Hong Kong, Merits (Photo Categories), the Human Rights Press Awards, Excellence in News Photography and Feature Photography of the SOPA Awards, and prizes in the "Focus at the Frontline" organized by the Hong Kong Press Photographers Association. Between 2011 and 2012 he served as Chairman of the Hong Kong Press Photographers Association. He collaborated with non-profit human rights organization Society for Community Organization to document life moments of grassroots elderly for three years and launched the photo exhibition and book We Live in 2015. He is now devoted in documenting political and social issues of Hong Kong whilst exploring personal photo projects.
10) LAM YIK FEI, HONG KONG
Lam Yik Fei is the Director of Photography at Initium Media in Hong Kong. Lam also works on assignment for various international media. His works are distributed worldwide via Getty Images and Bloomberg News Photos. They appear on International Herald Tribune, The New York Times, The Guardian and other leading publications.
11) LAU CHI CHUNG, HONG KONG
Lau Chi-Chung is a freelance photographer with many years of experience working as art director in TV commercial productions in Hong Kong. He graduated in United Kingdom with a B.A. degree in interior design. Chung's work has been exhibited in various countries, and is collected by museums and private collectors. His photography series "Landscaped Artifacts" (2013) won him the New Photography Artist of the year at Lianzhou Foto 2013.
12) PAUL YEUNG, HONG KONG
Paul Yeung (b.1978, Hong Kong) graduated from MA in Image and Communication (Photography) at Goldsmiths College, University of London in 2011. Yeung embarked on his profession in photojournalism in 2000 after graduated from the Chinese University of Hong Kong (CUHK). Yeung has also worked extensively as a photo editor and lecturer. He was a former chairman of the Hong Kong Press Photographers Association (HKPPA), and has received more than 15 awards from The Newspaper Society of Hong Kong and HKPPA. At the Hong Kong Photography Festival 2010, he was selected as one of Fourteen Hong Kong New Generation Photographers.
13) PENG-CHUN YEN, TAIWAN
Peng-Chun Yen, born in 1975, is working as a graphic designer. He has loved drawing since he was little, and aimed to be a painter. Although he is not a full time painter now, his job is still related to "painting". While busy with the job, he doesn't have much time to pick up his brush. Therefore, he uses the camera as his brush to create art works, putting what he sees, thinks and imagines into frame.
14) SHEN CHAO-LIANG, TAIWAN
Shen Chao-Liang was born in Tainan, Taiwan, in 1968. He obtained his master degree from the Graduate School of the Applied Media Arts, National Taiwan University of Arts. He worked as a photojournalist and Vice Convenor for the Entertainment, Art and Literature News Center of the Liberty Times, the Artist in Residence at National Central University, Taiwan, and Chairman, Portfolio Review Committee, Young Art Taipei. Shen has been dedicated to feature photography since 1993. From his early works of Reflections of Nan-Fang-Ao (2001) to the latter series of YULAN Magnolia Flower (2008), Tsukiji Fish Market (2010) , STAGE (2011) and SINGERS & STAGES (2013), he has been recognized by his sophisticated style of image creation and commitment to documenting the evolution of Taiwan society.
15) TERRY NG, HONG KONG
Ng Hon-hei, Terry (b. 1981, Hong Kong) received Postgraduate Diploma in Photography from School of Professional and Continuing Education, The University of Hong Kong in 2012. He is currently studying Master of Visual Arts in Hong Kong Baptist University. His project 'Border' was exhibited in the group exhibition 'Yuen Yeung — Contemporary Hong Kong Photography' of 2013 Lianzhou Foto in Mainland China between Nov and Dec 2013, and will be exhibited in forthcoming solo exhibition in Hong Kong gallery Lumenvisum between Aug and Oct 2015.

16) TOU YUN-FEI, TAIWAN
Yun-Fei Tou (b. 1975) graduated from Rhode Island School of Design receiving a Bachelor of Fine Arts degree in 1998. Between 1999 and 2009, he worked as a professional photojournalist. Since 2010, he has independently pursued fine art photography while focusing on various social issues in Taiwan, where he lives. His work incorporates a variety of artistic and conceptual approaches. In 2011, His project MEMENTO MORI was featured in PROVOCATION, a juried invitational exhibition held during the New York Photo Festival; in 2012, the series was awarded Grand Prize by "The 10th Taoyuan Creation Award" in Taiwan. MEMENTO MORI was also recognized by PhotoShelter as being a "Notable Photography Project" in 2012.
17) VINCENT YU, HONG KONG
Born and raised in Hong Kong, Vincent Yu has worked as a photojournalist covering major news events across the Asia-Pacific region since 1985. As a close observer of Hong Kong's rapid development, Yu has acquired a special sensitivity towards its ever-changing cityscape. His works have been recognized by many honours, including the 2004 National Headliner Awards, 2010 World Press Photo Awards 3rd Prize "People in the News" single category, 2013 Picture of the Year Awards Award of Excellence " Photographer of the Year " and numerous Hong Kong Press Photographers Association Annual Awards. His works are collected by the Hong Kong Heritage Museum.
18) WONG KAN TAI, HONG KONG
Wong Kan Tai was born in Lantau Island, Hong Kong in 1957. He joined the Hong Kong Press in the late 1970s and started his long career as a photojournalist. His photographic collections published include '89 Tiananmen, Land Reclaim and Hong Kong Walled City 2002 – 2007. Wong now lives in Japan and works as a freelance photographer.
Much thanks to the team at Angkor Photo Festival for the opportunity and all participating photographers, and to Chang Chao-Tang, Paul Yeung and Kuo Li-Hsin for the additional assistance.