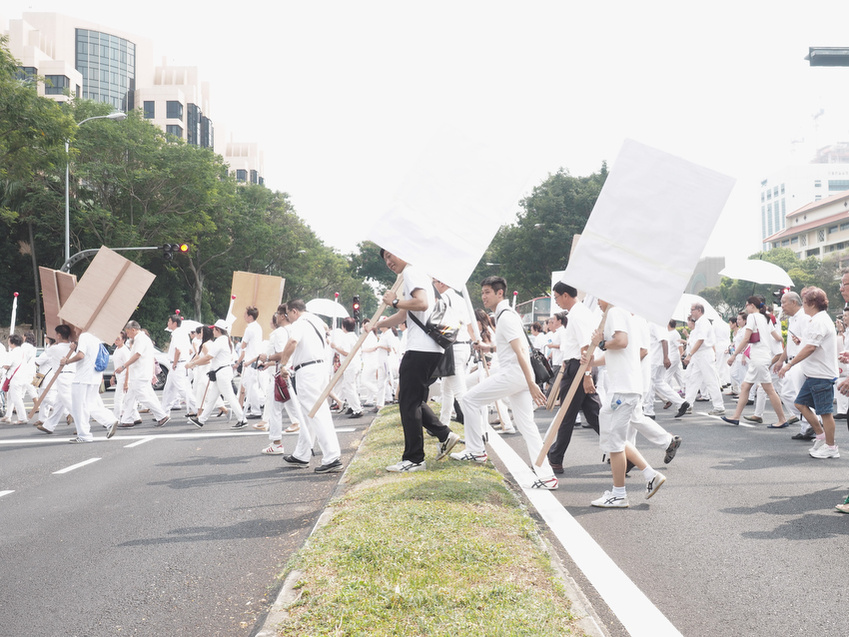 The rest of the world couldn't care less about Singapore politics. Election results, as proven time and again, are predictable. The exception might be governments or economists who find favor and model in Singapore's dominant one-party system. So this #chutpattern piece is really an "ownself check ownself" (borrowing lingo from the 2015 elections) discourse and an existentialist reflection for the Singapore photography community.
The Singapore 2015 General Election has just ended with a huge swing towards the ruling PAP Party. Pundits have attributed the swing to a variety of reasons, one of which is the silent 'supermajority' and their strong preference for pragmatism. Another points to the many social media images of huge crowds at opposition rallies supporting PAP's painting of a freak election result. During this election and the one in 2011, it was obvious that the local photography community was compelled and photographers were very active making images. Most might say they were merely documenting events for posterity. Some were guarded about vocalising opinions publicly, a few weren't.
With the function of art as critic and commentary and the role of a photojournalist, a label that many in Singapore find some affinity with, as an objective storyteller (or subjective) and enabler of minority voices, where is Singapore photography today and what role does it play, if any, moving forward? What is our creator psyche – idealist or pragmatist? Do we have an apolitical romance with our country? How does the Singapore photographer negotiate practice with politics in a Uniquely Singapore terrain and climate?
Hoping to initiate a discourse, I invited independent Singapore photographers to put down their cameras for pens and contribute personal opinions and perspectives. Those invited were active in one way or another; associate with the label 'photographer'; vary in age, experience, and perspective; and most importantly, are citizens. I hope the contributions provide an urgent, constructive starting point for discussion, personal or collective, for all who have a vested interest in Singapore Photography and its future. Lest we lose all visible traces of colour.
Opinion Pieces were contributed by: Aik Beng Chia, Bernice Wong, Caleb Ming, Charmaine Poh, Chin Hon Chua, Christopher Wong, Darren Soh, Edwin Koo, Lim Weixiang, Megat Ibrahim Mahfuz, Mindy Tan, Nguan, Nurul H.A. Rashid, Seah Yu Hsin, Sim Chi Yin, Sebastian Song, Tay Kay Chin, Weilun Chong, and Zakaria Zainal.
Read all the opinion pieces here:
http://invisiblephotographer.asia/2015/09/19/sgphotography-pragmaticpolitics/